Free Imaging Start-Up Package!
Feb 25th, 2020
Our current promotion offers hundreds of dollars in free start-up imaging!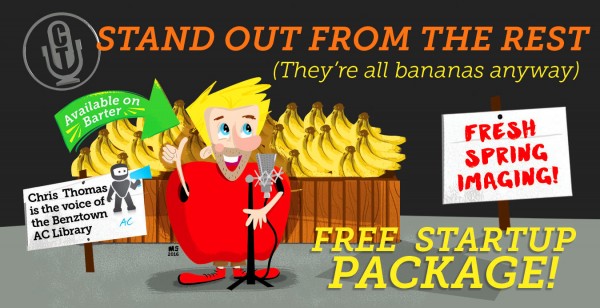 Choose any of these options and receive up to 2 FREE additional pages of imaging VO!
TRADITIONAL - Agreement of 1 year or more with monthly payments based on your desired number of VO pages per month. Full production also available.
BARTER - Agreement of 1 year with no monthly payments. Instead, station agrees to run daily commercial inventory as barter for a desired amount of VO per month. Call to see if your station is eligible.
BENZTOWN BONUS - Step up your cash or barter a bit to access the entire Benztown AC library of "ready to air" imaging featuring the voice of Chris Thomas! New material delivered weekly. Instant access to hundreds of killer music promos, artist shouts, sweepers and more. This package is worth its weight in gold and provides a HUGE sound instantly! Sample the AC library and other imaging demos here.
CALL 712-253-5635 or contact us here and we'll get back with you immediately.